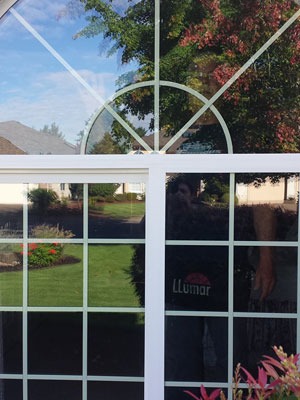 Turn to the professionals at Trim & Tint for high-quality residential tinting!
Window tint for your home offers many benefits. While you may know that tinted windows help add privacy to your home, there are other ways that window tinting can protect your home.
Window tinting helps reduce harsh glares from the sun while also blocking 99% of the sun's harmful UV rays. It saves you money over time as well because tinted windows help protect your furniture, draperies, and carpeting from fading.
Glass breakage protection
Storm protection
Protection from vandals
Scratch and shatter resistance
See the difference that high-quality tint makes!
When it comes to tinting your windows, you don't want to have your tinting installed by an inexperienced contractor. Your tint will have bubbles, crack, peel, or won't last as long as it should.
When you turn to Trim & Tint, you will receive high-performance film that is professionally installed for lasting results!
Your film will be installed by a team that is fully bonded and insured for your protection. All installers are certified, and we have been in the business since 1985, so we have the experience needed to provide you with high-quality, long-lasting tint that looks great.